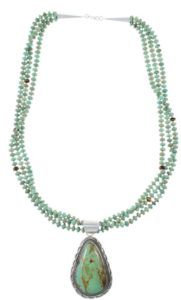 A beautiful array of color, culture, and precious stones, Navajo turquoise necklaces, and jewelry, in general, are some of the most elegant and stunning pieces around the world. Part of what makes them so appealing to people are the cultural ties that connect the pieces with Native American tribes. One of the most well-known tribes in the Southwest is the Navajo. This tribe has developed a distinct style and, over the years, has perfected the way they create a certain piece.
About Navajo Turquoise Necklaces
To start, making jewelry has been a part of Navajo culture for centuries. By acquiring new techniques through trade, the Native American community, as a whole, was able to learn blacksmithing. In particular, the skill of working with silver was taught to the Navajo by the Spanish in the early 19th century.
Many tribes took to these new techniques and completely replaced their old way of doing things. Before, turquoise stones might be held together by some form of cloth, string, or corn husk to create necklaces and bracelets.
Another unique tradition of selling jewelry to traders developed as well. Jewelry was primarily used for wear and trading with other tribes before the settlers and Spanish came to the new world. Since then, the creation of different Navajo turquoise Necklaces has continued to grow and expand across the Southwest, becoming one of the most popular styles in the country.
Many Native Americans hold turquoise gems as a sacred stone and believe that the gem itself has its origins in the sky, water, and rain because of its blue color. Many cultures have also referred to the stone as holy. A combination of belief and abundance had made turquoise the most popular stone in Native American jewelry.
The art of creating beautiful Navajo Turquoise Necklaces is ancient and truly unique in many ways.